How Often Should SMEs Replace PCs and Laptops?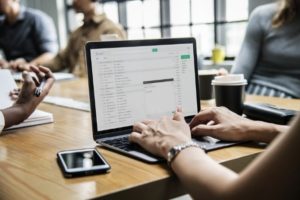 One of the trickiest decisions any SME owner can face is to decide when to replace or upgrade their computer system. This is a decision made all the more difficult if you are trying to balance a tight profit margin against the need for efficiency – and a small IT budget.
At Heron IT we offer high-quality IT procurement services to companies in Ipswich and Suffolk, across East Anglia and in London. Here are some key factors to consider if you are considering replacing your PCs or laptops.
The General Rule is 3-5 Years
It is worth bearing in mind that business PCs are generally of a higher specification than domestic models, which means they are of a higher build quality, and more able to withstand accidental knocks and scrapes. They should also be more secure against viruses and hacker attacks and are more versatile – that is to say, they can be configured in lots of different ways depending on the needs of the company.
Experts within the industry recommend that PCs and laptops should be replaced every three to five years. Microsoft themselves say that the average working life of a PC is around 4.4 years. Older computers may slow down with age, as they may be unable to support newer operating systems, or because of the large number of files stored on the hard drive. In the case of laptops, you may also have to factor in the use the machines get if people work from home.
Are You a Power User or a Light User?
One of the key elements in deciding how quickly small businesses need to replace their PCs or laptops depends on the people using it and the nature of the job they are doing. If your company has what is known as a 'power user' who is using their PC or laptop all week long for a lot of business-critical tasks, then the equipment will have a shorter lifespan and you may have to consider replacing it soon after the three-year period has been reached.
If, however, you have a PC or laptop which is being operated by someone who only works part-time, or it is only being used for comparatively straightforward business tasks, then the equipment may function effectively for the full five-year period.
Don't Make Them Last Too Long
For many businesses, the temptation might be to try to avoid replacing equipment for as long as possible – longer than five years – to save money on buying replacements. This is particularly true for smaller businesses which may not have a big IT budget.
However, this could prove something of a false economy, as you run the risk of the machine losing a lot of its operating efficiency. This could mean key staff are taking far too long to complete the easiest of tasks, which can be particularly damaging to companies operating on smaller profit margins.
Not Everything May Need Replacing
At Heron IT we assess every company's IT needs individually, and we come up with bespoke solutions which are tailored to fit your individual requirements. For instance, you may not need to buy a completely new PC or laptop, as it may just be a keyboard which needs replacing because someone has been typing a lot.
Also, if your business has a mixture of power users and light users, you don't necessarily need to replace all your PCs and laptops at the same time. It should be possible to buy a certain number of replacements for those which have had the heaviest use, while the remainder can be reallocated or transferred within the business – a case of cascading the machines down.
IT Procurement Services from Ipswich-based Heron IT
Our network of contacts within the IT sector mean we can source the right kind of computer software and hardware for your business. This includes a range of high-tech equipment, including cables, switches, routers, CCTV cameras and telephones, as well as PCs and laptops.
An essential element of the IT procurement services we offer from our Ipswich base is our ability to strike the right balance between cost and efficiency, so we make sure that any money you spend is widely invested. Equipment can be purchased by subscription-based services which avoid lump sum costs and the outlay can be spread over three to five years.
If you would like to know more about how we can help you, follow this link and fill in the online form. You can also call our Suffolk office on 01473 350444, or our London number on 0203 026 2441.