>
>
Heron IT continue the Partnership with Millwall Football Club
Heron IT continue the Partnership with Millwall Football Club
Heron IT is delighted to be named as Official Technology Partner to EFL Championship club, Millwall FC for the 2022/23 season and will continue to provide IT support to the club.

Working with Millwall Football Club's IT Manager in London, the team at Heron IT perform as an outsourced IT department for The Den, the training ground and the academy. Colin Hammond, Managing Director at Heron IT explains how the relationship with Millwall FC came about:-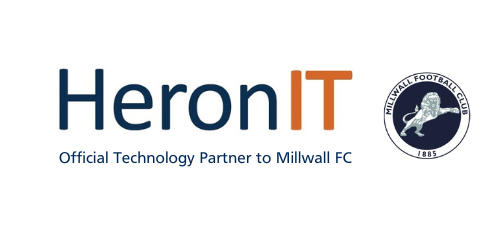 "The Heron IT team are made up of technicians with a stadium and venue background. Our clients include music venues as well as sports stadiums, pubs and hotels. We offer a service that includes everything from infrastructure, procurement of equipment, point of sale and ticketing, online security and event day support.
Our relationship is longstanding with Millwall FC and we are obviously pleased to be working with them again this season. Most recently we have been working on a project for a new till/EPoS system, video conferencing facilities and getting the staff (approximately 80) over to cloud-based systems which are more efficient and secure. We continue to procure equipment at a competitive cost and arrange delivery at any of the three main sites or home delivery for remote workers. I am particularly proud to be associated with a club with a strong community and family focus. I enjoy the matches too. Monday morning usually starts with a discussion about the Lions' performance at the weekend."
Michael Kesta is the IT Manager at Millwall FC: "I am looking forward to another season with Heron IT. I value the knowledge and advice and their support allows me to get on with the day job."
If you are looking for IT support for your business or venue, please contact Colin Hammond, colin@heronit.co.uk.
---
Share this…